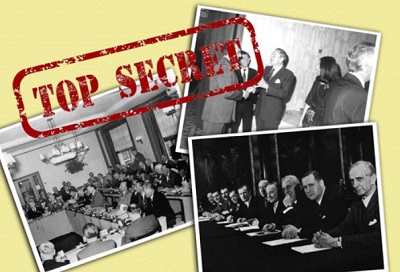 "The Turning Point" (La encrucijada de Bilderberg) es un documental del periodista Dan Dicks, miembro de la organización activista Press for Truth. Relata la historia del infame Grupo Bilderberg, una entidad que reúne cada año a más de 120 influyentes personalidades de la banca, las empresas multinacionales, los medios de comunicación, el mundo militar, las universidades y la política.
El documental se centra en las protestas ocurridas en 2012 durante la conferencia Nº 60 en Chantilly, Virginia, e identifica a los miembros más emblemáticos de Bilderberg. Entre ellos se destaca la Reina Beatriz de Holanda, el ex secretario de Estado Henry Kissinger, Peter Sutherland de Goldman Sachs, el banquero David Rockefeller, y representantes de Google y Facebook.
Press for Truth es un equipo canadiense de camarógrafos, periodistas de investigación y activistas políticos, sin fines de lucro, que se encarga de exponer los oscuros manejos políticos de las élites financieras. Dan Dicks, su fundador, ha producido una serie de documentales que abordan temáticas no exploradas por los grandes medios de comunicación, tales como "Into the Fire" (2010) sobre las manifestaciones de repudio que se produjeron contra la cumbre del G20 en Toronto, Canadá.
Dan también participó en la producción de "The Toronto Hearings on 9/11: Uncovering Ten Years of Deception", un proyecto de seis horas que explora variados testimonios de expertos que ponen en tela de juicio la versión oficial de los ataques del 11 de septiembre de 2001 al World Trade Center de Nueva York.